Insight from a darling SSE bride!
We caught up with darling SSE past Bride, Lexi Circle Masur, who just celebrated her 1 year anniversary for a Brides perspective on some of the planning process. Lexi and Adam had the most perfect weekend saying their I do's at the Sea Pines Resort. They wanted their guests to get the full Island experience and planned tennis, golf, yoga, beach games, a welcome party, brunch and of course their wedding! Their ceremony was on the croquet lawn of the Harbour Town Clubhouse and guests walked around the harbor, with champagne in hand, to the cocktail hour on the 18th lawn. The Reception was in a gorgeous sail cloth tent where guests dined and danced the night away. We know it can be difficult for Brides to decide on their vision for the weekend, and Lexi has provided some great tips for finding your vision and managing stress!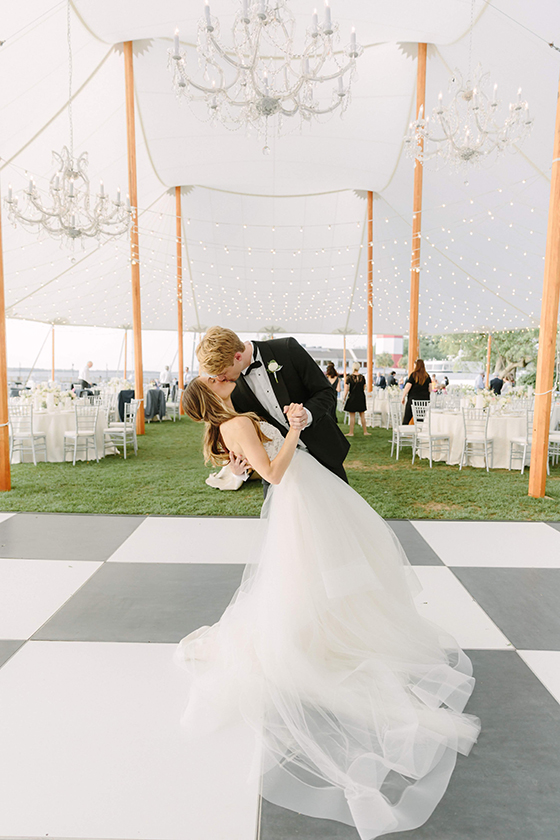 How long have you had a vision for your wedding day?
I, like most girls, have dreamt up my wedding day since I knew what a wedding was. Every aspect had been planned and cemented in my mind, and all I needed was my groom (minor detail). I envisioned an outdoor, tented celebration with close family and friends, and where everyone was relaxed and truly having the best time. Sure, the romantic string lights and neutral color palette had been established long ago, but the primary focus had always been on the vibe of the weekend. I knew that, at the end of the day, what I cared most about was the day being a genuine celebration of love--filled with people who were a part of our story, all coming together to celebrate and truly have fun. I wanted it to be a weekend to remember, not just for myself and the groom, but for everybody who showed up.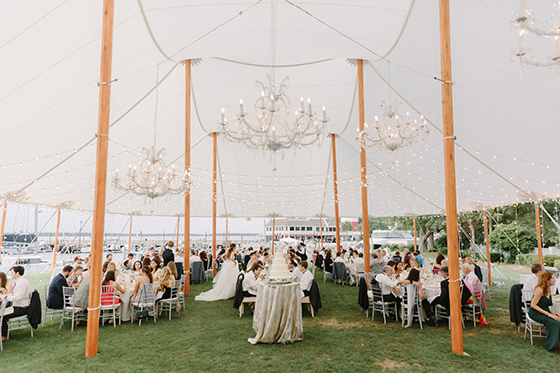 What was the hardest part of turning your vision of the wedding day into a reality?
With my vision unfaltering and the thousands (truly—thousands) of Pins I had saved on Pinterest, I just knew this whole planning thing would be a walk in the park. Then reality hit, and I learned that Pinterest is a gold mine of false expectations and shattered dreams. Nowhere on the photo of a million string lights does it say the astronomical cost. Nowhere on the floating candles does it explain the impossibility of such a structure from inside a tent. And nowhere on the Japanese wish lanterns, peacefully filling the sky with light, does it alert you its the illegality and potential of catching trees on fire. I learned soon into the process that I'd have to be flexible with some of my ideas and would need the creativity and experience of my planner and vendors to help guide me.
I also realized that not everything goes smoothly. Guests back out last minute, unpredictable weather could re-route the outdoor events, decorations surpass your budgetary limits, you name it. It's in those moments, though, that I reminded myself of what my true vision was: a weekend of love and fun. A different colored charger or indoor reception wouldn't change the experience in the slightest, and it was important to me that I stay grounded in what the day was truly about.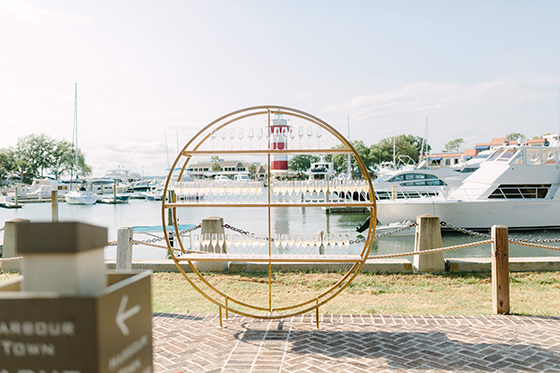 What was a deciding factor for where to hold all of your events since you planned as a destination wedding?
When looking for a venue, I knew right away that I needed a space that could hold the ceremony, reception, rehearsal dinner, and even the accommodations, all in one spot. As a destination wedding, everyone is traveling from afar, so having a space that is easy to navigate and doesn't require transportation to get from one spot to the next is key. I looked at a variety of hotels and resorts, but ended up landing on Sea Pines Resort, because it encompassed it all. There were enough venue spaces to choose from for each event, guests could stay on premise in either the Inn or the many rental villas, and there were a slew of activities to partake in (biking, golf, swimming, etc).I loved the idea of walking to breakfast in the morning and running into groups of friends and family, and then everyone joining together for whichever activity was next on the itinerary. It really felt like I was planning 150 people's spring vacation, and I knew I had to pick a spot that was beautiful, logistically easy, and fun.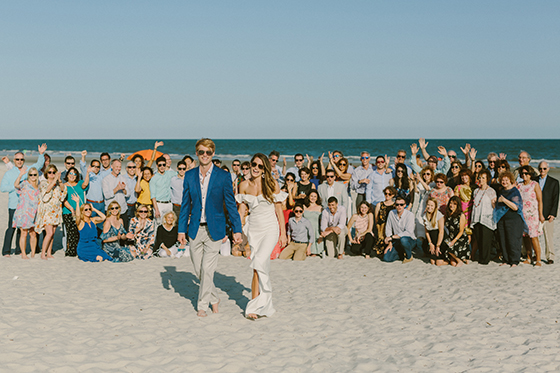 Y'all threw such a fun weekend for your guests from start to finish, what were some important things you wanted your guests remember?
I've been to a large variety of weddings, myself, and couldn't tell you what the centerpieces or bouquets looked like at any of them. I could, however, recite the brides who were stressed and overwhelmed, or the quiet music that kept guests from wanting to dance. While the decorations were fun to pick out, I knew that my priority was on making the night enjoyable for everyone, including myself! I decided to make a list of "Must Haves" and on it included an amazing, lively band, and unlimited, easy-to-get cocktails.
In addition to the reception being a blast, I knew I wanted guests to remember the entire weekend — not just those few hours from Saturday night. Considering everyone was traveling for this, I saw it as a vacation for each attendant and made it feel as stress free as possible. Bonfires, golf, yoga, tennis, bike riding, and rehearsal dinner beach games were all a part of that plan. I knew I wanted each activity to be on-site, so guests wouldn't have to worry about getting from one place to the next, and we could spend as much time as possible with everyone.
I also figured out from my previous experiences at weddings that guests go off of the mood of the bride. I told myself that, should something go awry, I wouldn't let it bother me. If you don't care, nobody else will either!!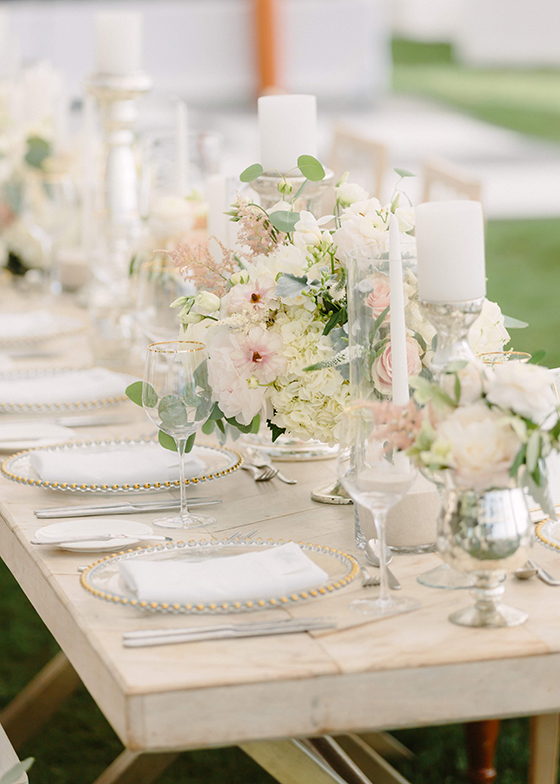 During the planning process did you face any design dilemmas? For example stuck between color schemes, overall feel, flowers etc. If so, how did you work through it to make a decision?
Something I never realized until I was a bride myself was the way in which you make decisions with each vendor. Obviously it makes sense looking back on it, but I never took into consideration that each vendor works separately and that design decisions would be made one at a time instead of all together. With that being said, I had chosen the flowers in one month, linens and plates/chairs in another, lighting in another, etc. I knew I liked each individual decision I had made, but I couldn't manage to envision what it would all look like when put together! Did my flowers match the chargers I had chosen? And did the purple tent lighting go with the overall theme? I imagine this to feel like it does when building a house from the ground up. You can choose the most beautiful light fixtures and countertops and backsplashes, but how do you know it'll all look good in one room together?
To help with this, I learned early on that creating a design board was key. I'm absolutely no pro when it comes to these, but I managed to copy and paste pictures from the vendors websites and from Pinterest inspiration photos so I could see each element together. I also think trusting your planner and vendors is key. If they know what your vision is, let them help guide you! They're the professionals who have "built the house from the ground up," if you will, and know what is needed to create that dream look!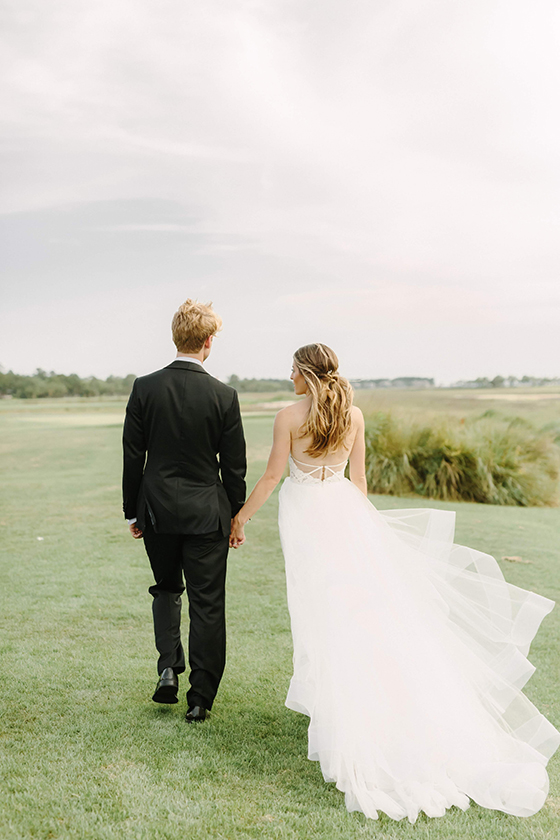 During the planning process was there a time that felt more stressful than other months? If so, what would be your advice to handle the stress?
I would say a stream of stress hit me about half way through. It wasn't a certain decision that I had to make that caused it, but rather the many different aspects that required my attention. I was helping finalize details for my bachelorette party, trying to book our dream honeymoon, ensuring all of the guests we wanted were in Excel with correct addresses, choosing design features, you name it. At a certain point, it just got to be too much. I realized that I needed to create a week by week timeline for myself, and only focus on the items that were on that week's agenda at a time, rather than everything at once. I made myself hone in on the items that were time-sensitive, and only once those were checked off the list did I venture to the following week's TO DOs. As much as you want to get everything done at once, it's truly impossible, and sometimes it's important to force yourself to take an ice cream break or a walk around the neighborhood before you go into Bridezilla mode. Also, delegate!! It's something I struggle with, being the profoundly over-controlling, particular person I am. But I decided on tasks that wouldn't have to be double-checked later, and gave them to Adam! I made him his own To-Do List, ranging from "order groomsmen attire" to "format guest list in Excel" and each time he checked something off the list, I would put a star next to it in the same way kindergarten teachers do. No joke! Hey, whatever works!!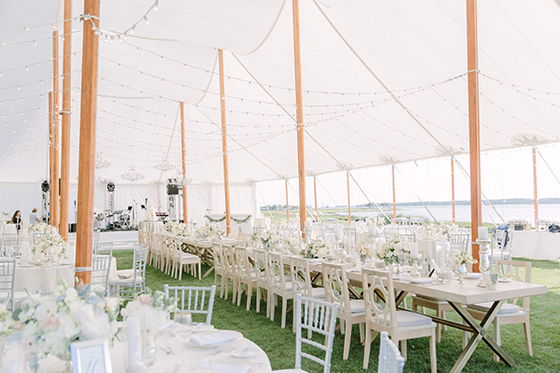 Advice to other Brides planning away?
Find vendors that you can trust!!! Starting with a planner who understands your vision, has great communication, and is able to take on the stress for you so you can enjoy the process. (SSE was THE REASON I was able to plan a destination wedding and why it turned out so perfectly!)
You won't be able to physically be there to make each and every decision, so it's important to find a team of professionals who understand your vision and who you can trust to execute it. I'd plan on seeing the venue space at least 1-2 times prior to the event, if possible and take a TON of photos/videos while there! It gets tricky to picture each space from afar, so referencing these photos will definitely help.
There are also some really fun ways to add personal touches to destination weddings that will make your guests feel at home. For instance, we wrote hand written welcome/thank you notes to each and every guest and left them in their hotel rooms. We also put pictures of us with our friends/family around the hotel so they could find their picture and feel like they were in our living room as opposed to a foreign space! Welcome bags are a fun place to get creative, as well, and include personal touches that will come in handy (ie: hangover packets and his/her favorite snacks)!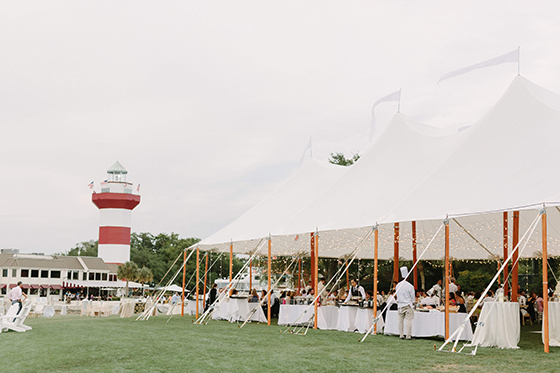 Highlight of the day (other than marrying Adam)?
This is the first question everyone asks us—"What was the highlight of the day?" And we learned pretty quickly that our answers were actually the same. Aside from marrying each other (because, duh), we agree that our favorite moment was sneaking away from the reception, just the two of us, and looking at it all from afar. We literally had to hide outside the tent before someone would spot us, because everyone wants to talk or dance with you, but once it was just the two of us, we could let everything sink in. The fact that we were officially married, the beauty of the tent that was somehow my very vision come-to-life, and everyone inside it, from each part of our lives—birth, middle school, college, jobs, etc—here in one place, celebrating our love. It was the most surreal moment that we wanted to let sink in and capture as a memory we'd have forever.
Thank you Lexi for your honest insightful answers! Happy Anniversary to you and Adam!
Photo cred- Jessi Caparella Photography