2019 Year in Review!
Another blessed year for Spencer Special Events!! We can't thank our wonderful clients and amazing vendor friends for making 2019 such a special year and one we will never forget! As we look back on the many celebrations we have planned, we smile as the SSE family keeps growing! From the bottom of our hearts we truly are so grateful to have met clients that become family and have a team of vendor friends who turn their dreams into a reality.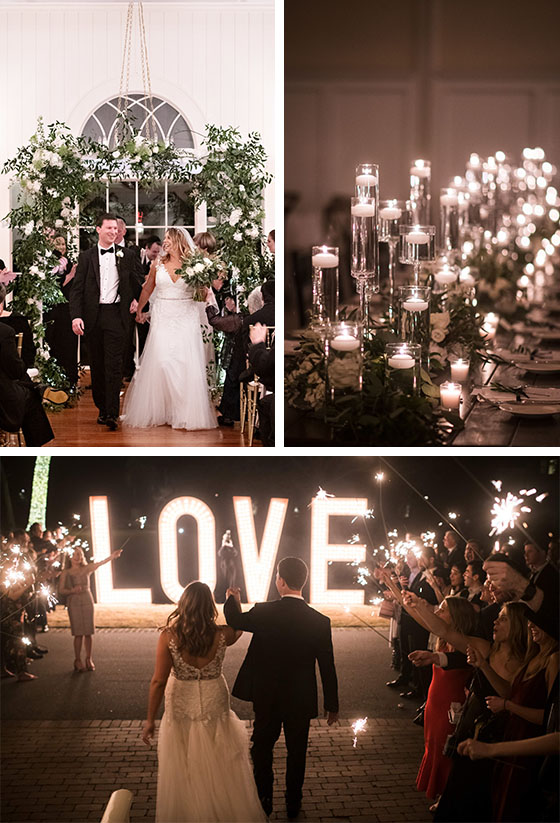 Kahn-Cohen
Venue: Montage Palmetto Bluff
Photographer: Donna Von Bruening
Emily and Michael had a cozy elegant winter wedding in the Somerset Chapel. Guests were escorted to the Somerset Lawn for cocktails as letters reading "L O V E" lit the area. Green and white florals mixed with grey and black details were the perfect blend for the Ballroom design. Edison bulbs hanging over the dance floor, endless candlelight and a room filled with love left the ballroom a glowing! What a wonderful way to kick off 2019 with a fun loving couple and fun family!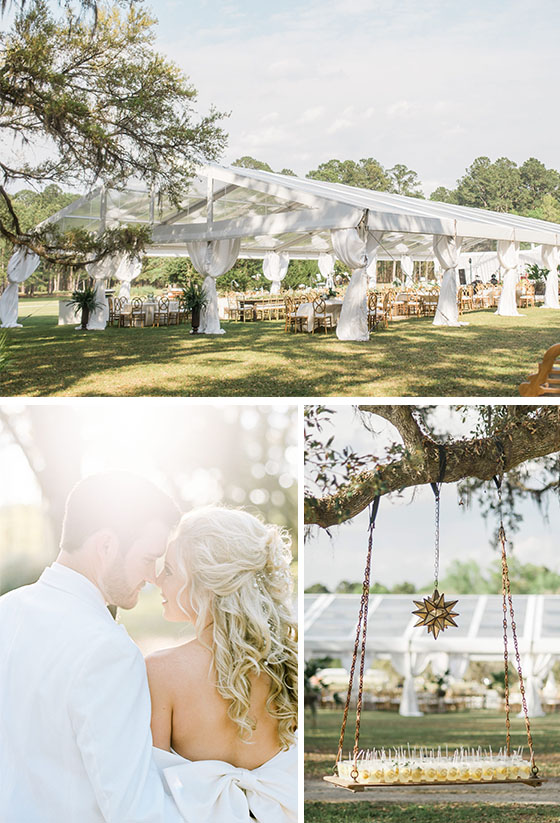 Odum-Griffith
Venue: Pineland Club Plantation
Photographer: Alex Thornton Photography
What a sweet southern affair! Pineland Club Plantation was the perfect backdrop for Savannah and Jared's soiree. The guests were transported in style by Low Country Valet and walked down an oak lined avenue to the Ceremony. The Voices of El Shaddai moved guests from the Ceremony to cocktail hour underneath a canopy of live oaks. Guests were escorted to a beautiful clear top tent for the Reception and danced the night away under the stars. Congratulations Savannah and Jared!!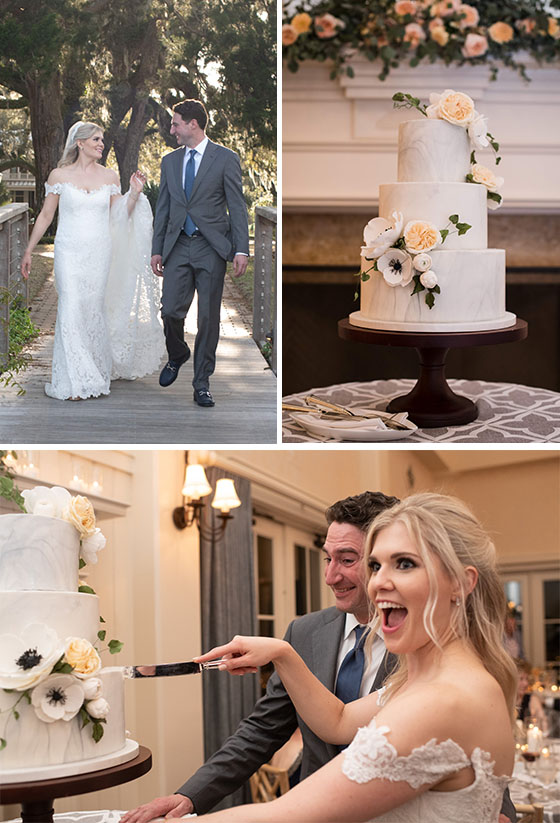 Costantino-Zoubek
Venue: Montage Palmetto Bluff
Photographer: Donna Von Bruening
Kelly and Damien had to postpone their Fall wedding due to Hurricane Florence, but they did not let that stop them from celebrating with their loved ones at Montage Palmetto Bluff. Their playful and kind personalities shined through and they made the most of their time and planned a beautiful Spring wedding. We loved the color scheme of different shades of orange, peach, and grey tones! Kelly was passionate about cake and thrilled to finally try her Wedding cake made by the ever so talented Minette Rushing. A girl after our own heart!! Cheers to y'all!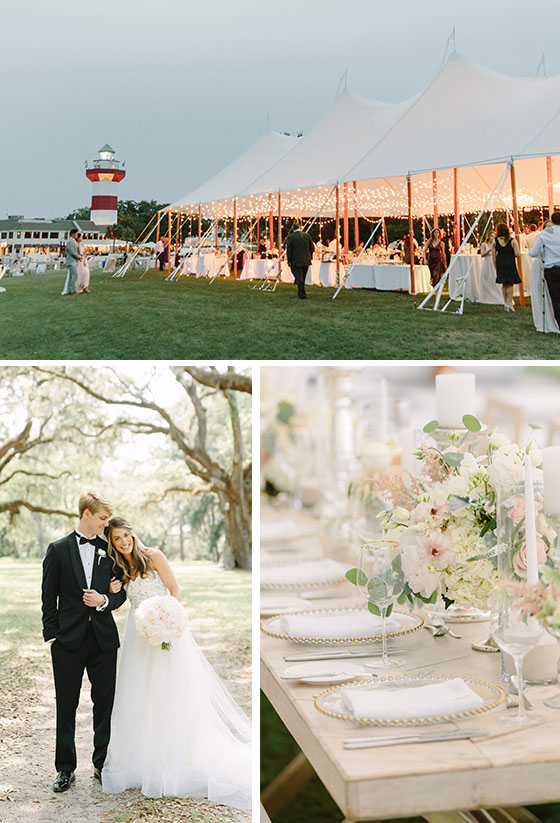 Circle-Masur
Venue: Sea Pines Resort
Photographer: Breathe J Photography
Lexi and Adam sure know how to entertain out of town guests! From the great hospitality of the Inn at Sea Pines Resort, to beach games before Rehearsal Dinner and a Welcome Party at the Beach Club, they did not let a single detail slide. In a beautiful sail cloth tent from our dear friends at Ranco on the 18
th
lawn overlooking the Calibogue sound and iconic Harbour Town lighthouse, guests came together to celebrate Lexi and Adam. A black and white dance floor with Technical Event Company's crystal chandeliers hanging above and café lights strung to the ground made the best setting for an incredible party! We loved seeing Lexi and Adams dreams come to a reality and loved working with them every step of the way!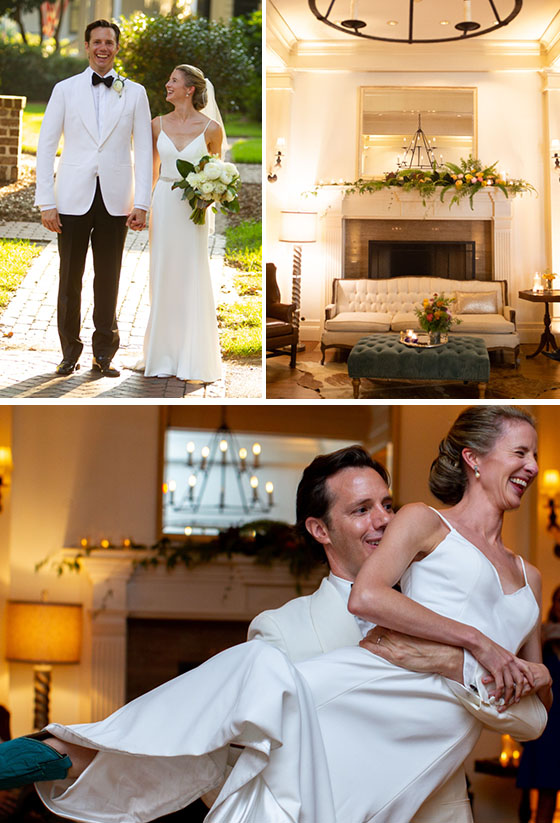 Hyltin- Bailes
Venue: Montage Palmetto Bluff
Photographer: Mark Cafiero
What a lovely intimate Wedding Sterling and Ryan hosted at Montage Palmetto Bluff! From saying I do's in the May River Chapel to an intimate dinner overlooking the River, guests were in for a treat. We loved all of the pops of color they included in their design. Since our darling Bride is a professional ballerina she surprised all of the guests with a choregraphed dance with her hubby. So special!! She was the most graceful dancer even in fun blue cowboy boots! Cheers to Sterling and Ryan!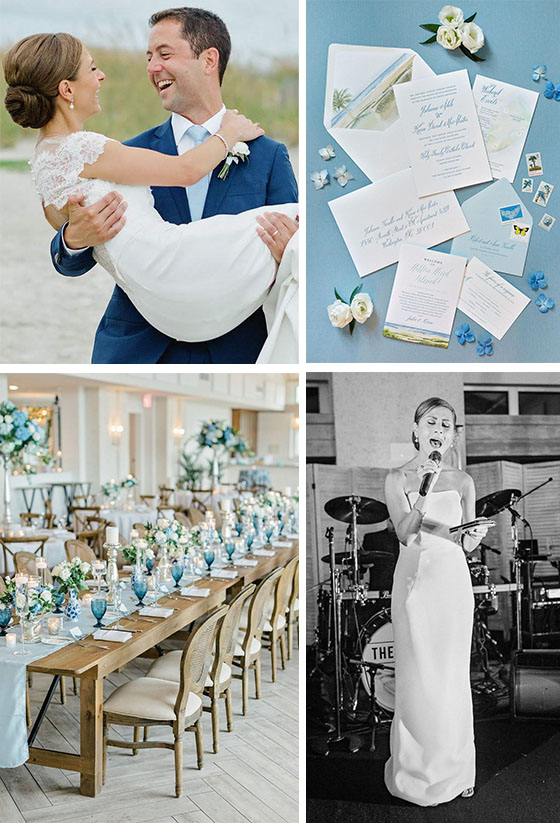 Tarallo-McAlister
Venue: The Westin Resort Hilton Head
Photographer: Amy Arrington Photography
Julie and Kevin had the perfect Labor Day Weekend on Hilton Head Island! The thoughtful couple wanted their out of town guests to soak up the sun, relax and celebrate all weekend long. We loved their paper goods designed by dear friends at Studio R, a true reflection of their venue and vibe. A soft blue palate and crisp white made for a classy setting in the Westin Hilton Head Island Resort's Grand Ocean Terrace! Julie surprised her hubby and guests by singing a song on stage, so cute and talented bride! Their contagious smiles and laughter filled the room and sure did warm our hearts!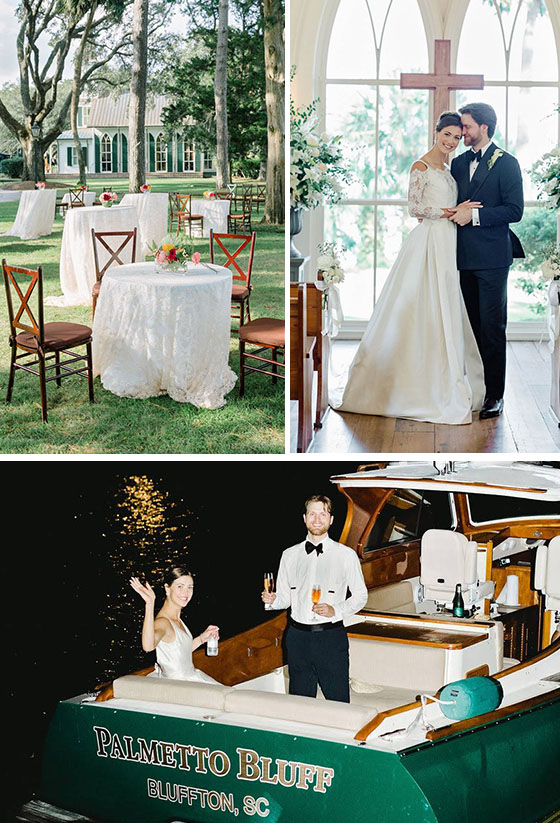 Fry-Gromatzky
Venue: Montage Palmetto Bluff
Photographer: Amy Arrington Photography
This was a weekend full of Low Country Charm! Kicking off their weekend with an intimate dinner party, Bridal luncheon aboard the Grace Yacht, a Welcome Party at Moreland and bowling at Coles-guests were in for a treat! You could feel the love and warmth from all of the guests celebrating such a special and gracious couple, Juliette and Austin. After their May River chapel ceremony, guests were escorted to the May River Lawn which was filled with beautiful linen and colorful flowers. The Riverhouse Reception was the perfect mixture of classy and romantic with flowers of white, green and accents of gold.
Juliette and Austin ended their evening with an endearing surprise from the Mother of the Bride, a trip aboard the Hinkley with champagne and macarons in hand looking back at their Reception!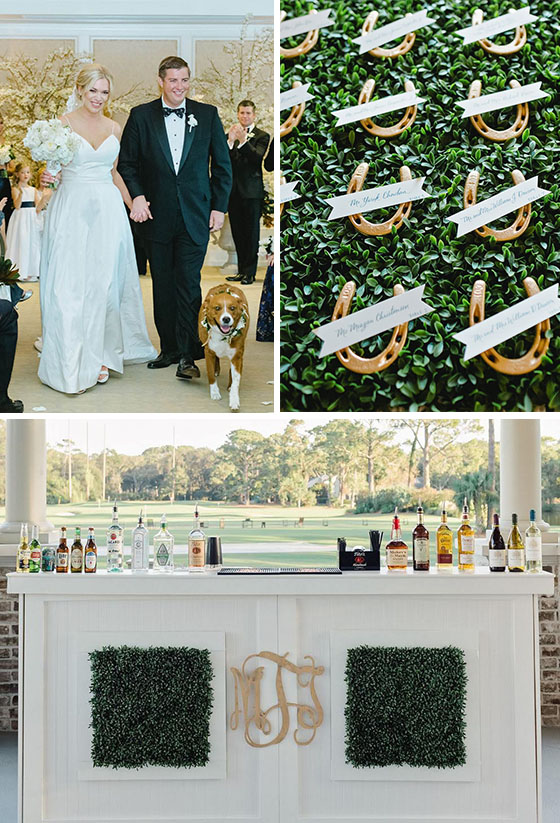 Lutes-Tafel
Venue: Sea Pines Resort
Photographer: Amy Arrington Photography
We loved how Megan and Tosh wanted to add some hometown flair to their destination wedding at the Sea Pines Resort. What better way to ode Kentucky than horseshoe escort cards, boxwood and bourbon?! Their ceremony took place in the Heritage Room overlooking the Harbour Town Golf Links course, where A Floral Affair crafted a beautiful orchid arbor. Guests were escorted down the spiral staircase to cocktail hour on the veranda of the Harbour Town Clubhouse. The Reception in the ballroom was dressed with white and gold stylish linens, magnolia leaves, and beautiful orchid centerpieces. Congratulations Megan and Tosh!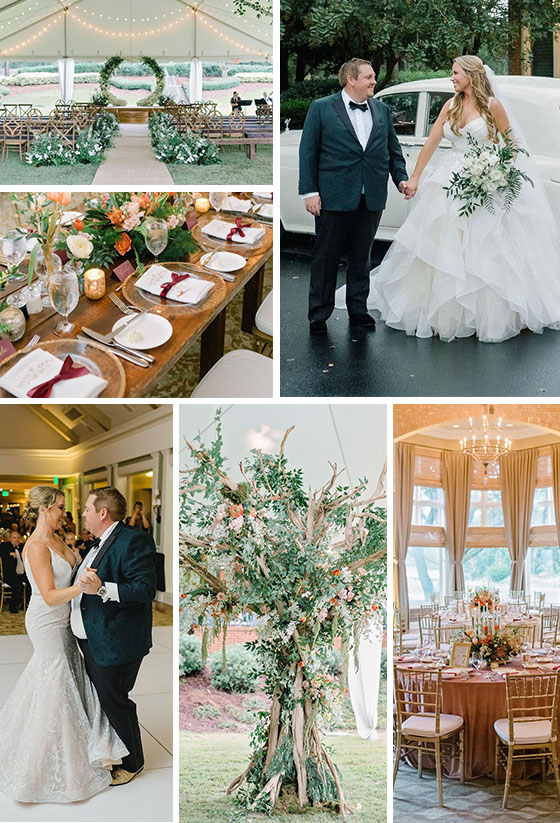 Keene-Schlotman
Venue: Long Cove Club
Photographer: Amy Arrington Photography
Kelly and Kyle did not mess around when it came to choosing the best wedding day attire! Kelly had 3 stunning different looks and Kyle had an emerald jacket with an authentic
"Cheers liner", and of course all of their fabulous accessories! A showstopper driftwood floral tree built by A Floral Affair greeted guests as they arrived to the Ceremony. Kelly and Kyle said their vows on a custom built stage by Amazing Event Rentals framed by a horseshoe floral arbor. Inside the Clubhouse, the reception was dressed in tones of blush, deep burgundy and gold with taper candles. So romantic!
Barton- Fitzgerald
Venue: Montage Palmetto Bluff
Photographer: Landon Jacob Photography
What a beautiful evening it was for Alex and Sean to dine alfresco on the Village Green of Montage Palmetto Bluff! Their tasteful neutral tones looked lovely on the lawn dressed up with gorgeous florals from the fab team at Em Creative Floral. They added a touch of the Low Country to their design with driftwood chargers and oyster shell place cards. After guests finished dining, The Royals band members led the guests to the Riverhouse for desserts and dancing. Alex and Sean's gracious personalities warmed the evening and we were so happy to be part of their weekend!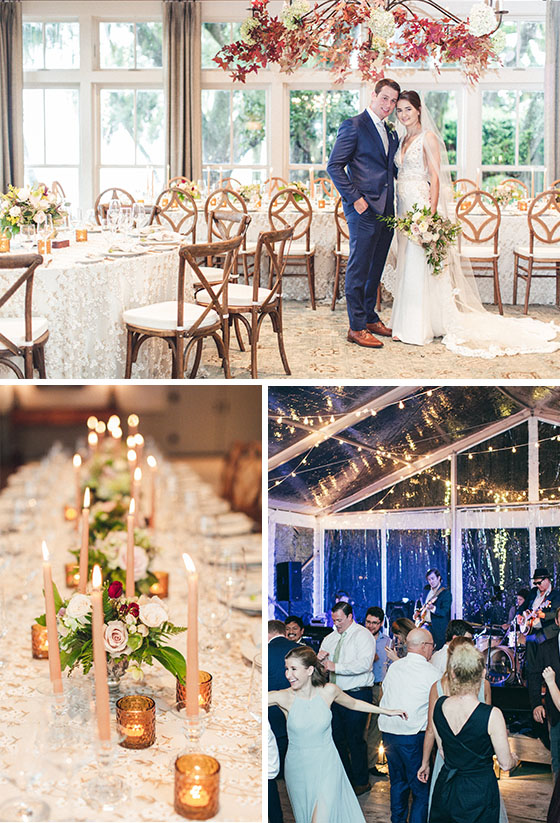 Sorem-Trepanier
Venue: Spring Island
Photographer: Olivia Griffin Photography
Mackenzie and Mike planned a fabulous weekend for all of their out of town guests with a Low Country boil to begin the weekend, Downtown Catering food truck for wedding day lunch, and a beautiful fall Reception in the River House. They really wanted to emulate Spring Islands natural beauty into the design of their décor and bring the outdoors inside. They had beautiful neutral linen that complimented the interior of the River House and fall foliage hanging from the chandeliers. They danced the night away to a bluegrass band as rain fell on top of their clear top tent, and made the atmosphere even cozier!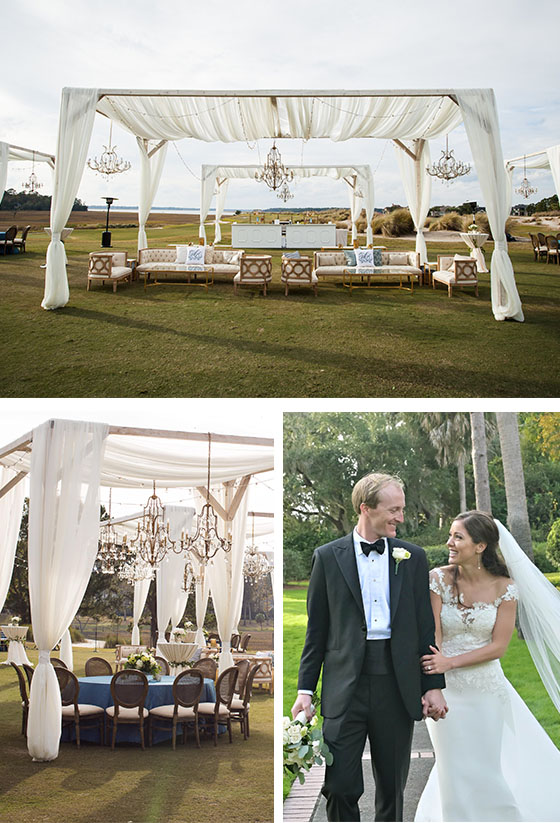 Reeves-Close
Venue: Colleton River Club
Photographer: Donna Von Bruening
Mary and Claude could not have had a prettier November weekend in Bluffton!! Friday night guests were welcomed to a Party in the Promenade underneath the stars with some of Bluffton's best! Mary and Claude wed in the historical Church of the Cross and then guests arrived to cocktail hour at the Nicklaus Clubhouse overlooking the Colleton River. They were greeted with libations, soulful music by the Voices of El Shaddai and stunning draped chandelier structures built by our dear friends TEC. Mary and Claude were surprised by a firework exit in the most gorgeous vintage car, the perfect way to cap the evening! We adored working with sweet Mary, Claude and their families to create such a wonderful weekend and end our 2019!
Cheers to a happy, healthy and fabulous 2 0 2 0!!